Grandmaster Roland Dantes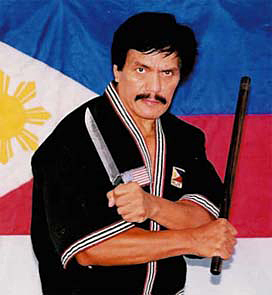 Roland Dantes (Senior Master Guro Roland) was the late GM Remy A. Presas dearest and closest friend and associate. He was featured on the cover and pages of two of the three Modern Arnis books written by GM Remy A. Presas and Rosemary Pascual Presas. He travelled to the USA with GM Remy A. Presas and performed with him in the First Martial Arts Exhibition (ABC Wide World of Sports) in Madison Square Garden, NY in 1976. Roland Dantes is one of GM Remy A. Presas original students and has never ceased his training, visiting GM Remy Presas several times each year.
Not only is Roland Dantes an awesome martial artist, he is also well educated. He has earned a Bachelor of Art, Bachelor of Science, Graduate of Physical Fitness Instructor and Graduate of the National Police Academy in the Philippines. He served as a police officer for several years before he became established as an Actor.
Roland Dantes is a world famous Filipino actor. He credits his success to GM Remy A. Presas, who coordinated the fight scenes in his first movies and taught him the art of Modern Arnis. Roland Dantes film career has been a great success. He has played the Lead Actor in the following movies:
"The Pacific Connection", "Arnis - the Sticks of Death", "The Golden Triangle", "The Heavy Hand", "Uhaw na Dagat", "Banta Ng Kahapon", "Cuarto Y Media", "Sintigas Ng Bakal", "Ninong", and he has had starring and feature roles in many other movies. Roland has received many awards for his acting talent during his career, and has guest starred on many Filipino television programs.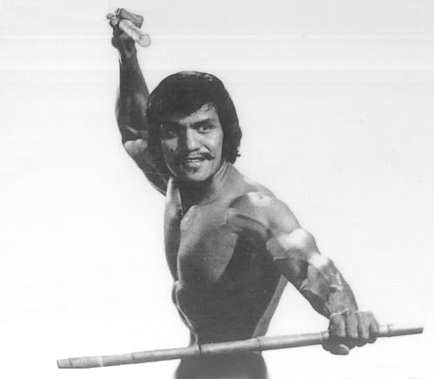 On top of being Filipino Martial Artist, Actor, and policeman, this extraordinary man is also a bodybuilder. He was Mr. Philippines in 69, 73, 74, 76, 80 and he placed several times in Mr. Universe: 4th in 69, 5th in 73 & 74, and 6th in 79. He took 5th place for Mr. World in 1970. In 1980, he placed 5th in the World Games for Bodybuilding. In 1982, he received a Certificate of Merit from the International Federation of Bodybuilders and President Marcos Gold Medal Award for Body Building in 1982. In 2001, he works out on a daily basis and stays busy with his acting career.
Senior Master Guro Roland holds a rank of Lakan Antas Walo (8th) in Modern Arnis and was promoted by GM Remy A. Presas in 1999. Starting in 2002, he has committed himself to spending more time promoting the art of Modern Arnis out of his love and respect for the late GM Remy A. Presas.